proclus' Debian screenshots:
Re: GNU-Darwin: missing code in Darwin
Michael L. Love Ph.D
Thu Jun 8 15:17:31 EDT 2006
GNU-Darwin is trying to be sure that Darwin OS stays as free as
Debian
.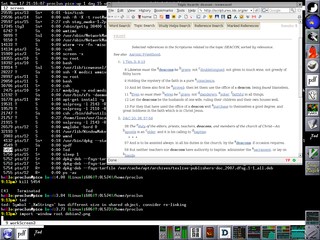 You can read about this Via CPU computer above, and how Debian landed on it in the GNU-Darwin email forum. Below are some screenshots from my computer at work.

    From: proclus@gnu-darwin.org
 Subject: Re: GNU-Darwin: missing code in Darwin 
    Date: Thu, 8 Jun 2006 15:37:47 -0400 (EDT)


Some of you may not know that GNU/Linux system administration is one of
my day jobs.  I manage a wide range of systems.  Here is a screenshot
of my work desktop, so that you can see I use the same tools at work
that I use at home at night on GNU-Darwin.  (weekends too)

http://proclus.gnu-darwin.org/debian.html

The only time that I ever use proprietary software is when I am trying
to help other users learn open source and/or free software.  

A storm is coming.  It is coming for you emperor.

If you are wondering what pulls all these ideas together, I think the
following link does it best at this time.

http://proclus.gnu-darwin.org/bootstrap.html

Regards,  (proclus)
Michael L. Love Ph.D
Department of Biophysics and Biophysical Chemistry
School of Medicine
Johns Hopkins University
725 N. Wolfe Street
Room 608B WBSB
Baltimore MD 21205-2185

Interoffice Mail: 608B WBSB, SoM

office: 410-614-2267
lab:    410-614-3179
fax:    410-502-6910
cell:   443-824-3451
http://www.gnu-darwin.org/




-- 
Visit proclus realm! http://proclus.tripod.com/
-----BEGIN GEEK CODE BLOCK-----
Version: 3.1
GMU/S d+@ s: a+ C++++ UBULI++++$ P+ L+++(++++) E--- W++ N- !o K- w--- !O
M++@ V-- PS+++ PE Y+ PGP-- t+++(+) 5+++ X+ R tv-(--)@ b !DI D- G e++++
h--- r+++ y++++
------END GEEK CODE BLOCK------

---
Dr. Love
is a staff scientist at
Johns Hopkins School of Medicine protein crystallography lab
. As founder of
The GNU-Darwin Distribution
, he is attempting to advance free software for the benefit of the user community at large.
---
Related Links (Thanks to RJay Hansen for help with the links!)
GNU/Linux related links:
GNU-Darwin related actions:
Celestrialism
Other links:
Rachel Corrie:
Remember Rachel Corrie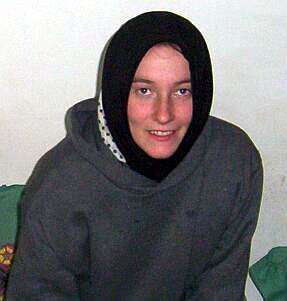 Banners:



---

For further ideas about the POLARIS project, how to stop the war, check here.

For further ideas about the Celestrialism, check here.

If you have comments or suggestions, email me at proclus@gnu-darwin.org